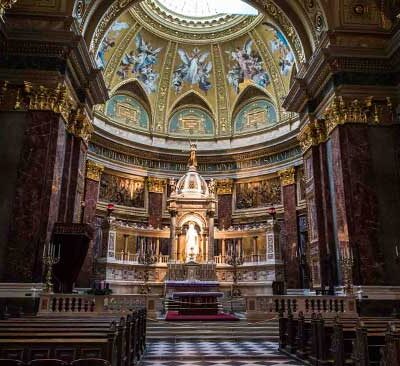 ST. STEPHEN'S BASILICA
Saint Stephen's Basilica is one of the largest and most significant Roman Catholic church in Budapest, it has the second highest ecclesiastical status in Hungary.
In order to build the church, there was a fundraising started in the 1810s, but the long and adventurous work started only in 1851 14th of August and ended in 1905.
The building was planned and built in 1851 by József Hild in classical style till his death in 1867 6th of March. The 22nd of January 1868 was a well-known day in the history of building the Basilica when its dome, planned by Hild broke and fell down. Due to a bad quality material which was given as a gift, and some architectural mistake caused imbalance, the structure could not hold itself anymore. From then on the building process had one year break and after cleaning the mess and rebuilding the weak structure, the process could continue only in 1871.
The governmental choice after Hild was the famous master and architect of the Opera Miklós Ybl, who added a neo-renaissance taste to the original concepts. He finished the building, but due to his death, the inner layout and the completion of the building in 1905 is the work of József Krausz. Famous Hungarian painters and sculptors decorated the inner side, using 50 different types of marble.
The statue of the basilica's patron saint by Alajos Stróbl can be seen on the high altar. It is quite unique to have the statue of a human on the altar, but on special Papal permission the statue of our first king, who converted the Hungarians to Christianity is displayed here.
The Chapel of the Holy Right is behind the sanctuary, where the right hand of King St. Stephen's is held in a delicately ornated reliquary.
An elevator takes up the visitors in the left tower, from where a magnificent panorama of the city can be enjoyed. Not only the streets and squares of downtown Pest but also the Castle Hill, the Citadel, and the other Buda hills are visible. In the right tower the largest bell of the country – weighs 9 tons – can be found.
The organ of the Basilica was made in 1905, by József Angster. He studied at famous Aristide Cavaille-Coll in Paris, that's why the disposition specification and size follow French principles. The organ case was made by cabinet-maker Endre Thék. The organ was improved many times. The last renovation was in 1982. The organ got a new, 4 manual keyboard, a new frontage, and an additional 13 registers. It has now 93 registers, 6507 pipes: the largest one is 10 meters, the smallest one is 6 millimeters. This organ is the greatest and most beautiful instrument of Budapest.
ST. STEPHEN'S BASILICA
1051 Budapest, Szent István tér 1.